Hey all you GUTGAA folks and any unsuspecting
victims
people who've stumbled onto my blog. I'm so glad you stopped by.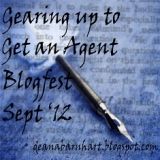 I'm terribly nervous about everyone visiting my fledgling blog. The pressure! *tears at hair* This is only my fifth post, but hopefully you'll enjoy getting to know a little about me. I'll be snooping around out in GUTGAA's Blogfestville checking out all of your Meet and Greets, too.
On to business.
Where do you write?
Most of the time I'm sitting in my bed, laptop on my handy dandy lapdesk with my toy poodle, Penny, warming my feet. Otherwise I'm hanging out in the living room in my glider rocker, or whatever you call those things, with my feet propped up on the footstool, Penny warming my feet. That is, until my ass butt goes numb, then I park the laptop on the counter in the kitchen and work there.
Quick. Go to your writing space, sit down and look to your left. What is the first thing you see?
To the left of my bed spot, is my bubby's side of the bed, with his nightstand neatly aranged. Of course, if you look to my right, my nightstand sits stacked to the brink with the girl's school papers, drinks, crumpled tissues- from when I write death scenes, Aleve (for my numb
ass
butt), alergy medicine bottles, and lip balm (I'm a compulsive lip balm user).
Favorite time to write?
I love to get up early (5:30ish) and get started while the house is quiet and there's less of a chance someone (namely children) are going to need my urgent attention - everything is urgent with my girls. Otherwise, I enjoy writing any time I can squeeze it in. I've even been known to take the laptop to the school when my daughter has an activity and tap away at the keyboard while waiting for her turn to do her thing (track, part in play, schedule changes, whatever). This is actually a great place to work, becuase I write YA and there are all these teens around to watch and gleen tidbits from. It's fantabulous!
Drink of choice while writing?
Ice cold mocha, until I get caffeine overload, then I switch to water.
When writing , do you listen to music or do you need complete silence?
Music. It inspires me.
What was your inspiration for your latest manuscript and where did you find it?
My eldest daughter, Alex, is an artist- no really, she's got talent (of course I'm biased, but even her art teacher wants her to go to art school, so that's got to say something, right?). She drew a picture of an angel. Her angel was fitted in full battle gear, breastplate, shield, sword, the whole nine yards. What it would be like if she weren't an angel at all, but a regular girl who one day woke up with wings? How would she react? Why would she have wings? That was the beginning of
DEVASTATION
. For the full story, click
here
.
What's your most valuable writing tip?
I guess it would have to be "Begin as you mean to go on." This is useful in so many of life's situations, but for writing it means to start out with
more show, less tell
. Write
great dialog
that's realistic. Stay away from
weak
and
passive verbs
. Write with
few filler words
, and even fewer
filters
. In other words
tone up flabby writing
. Because editing is a bitch pain and the less of these you have the easier it will be.
To learn more about me and my novel,
DEVASTATION
, visit my
website
.
Feel free to comment on my Meet and Greet. I'd love to hear from you!